Mother's Day is just around the corner! It's time to plan something incredible for your mom to thank her for all of her hard work and effort. What if you want to save money? What if you forgot? What if you are too lazy to buy something? What if you can't find anything to give her? Then, you're in luck! The following are a few easy DIY gifts that you can give to your mom to make her happy.
Water Marble Mugs
These beautiful mugs are the easiest and cheapest things you can make for your mom. You only need two simple materials; a white mug and some nail polish!
Learn how to make these mugs from WhatsUpMoms in the video below.
Blooming Monogram
This chic piece is a sweet additon to the decor. You can create a unique and colorful display for your mom using some fake flowers.
Learn how to make it from Lulus.
http://blog.lulus.com/general/blooming-monogram-diy/
Heart String Art

This adorable and colorful gift will definitely make your mom happy. The design is simple,
although it may take some time.
Learn how to make it from Sugar Bee Crafts.
http://www.sugarbeecrafts.com/2015/07/heart-string-art.html#_a5y_p=4128157
Spray Paint Flower Art
This cheap and easy art will take you no more than half an hour to make. It's simple and beautiful.
Learn how to make it from Simply Real Moms.
http://www.simplyrealmoms.com/posts/diy-spray-paint-flower-art-easy-and-cheap/
Pop Up Cards
These lovely cards are easy to make and can be made for any occasion!
Learn how to make them from One Dog Woof.
http://www.1dogwoof.com/mom-love-pop-up-cards-free-silhouette-cut-files/
Silhouettes
This is a classic way to decorate a room. You can make them in so many different shapes, sizes, and colors. There are endless possibilities!
Learn how to make them from Homemade Ginger.
http://www.homemadeginger.com/2012/06/gallery-wall-tutorial-diy-easy.html
Mason Jar Picture Frame Vase
Some simple jars can be turned into a dazzling frame and vase. Add a picture of your family to it and give it to your mom. You can even add a LED light bulb inside to give the frame/vase a stunning look.
Learn how to make this from Home Stories A to Z.
https://www.homestoriesatoz.com/crafts/mason-jar-picture-frame-vase.html
Cupcake Bouquet

If you're not sure whether you should make your mom some delicious cupcakes or buy her flowers, then this is the perfect combination for both. It's tasty and appealing.
Learn how to make this from 52 Kitchen Adventures.
Box of Chocolates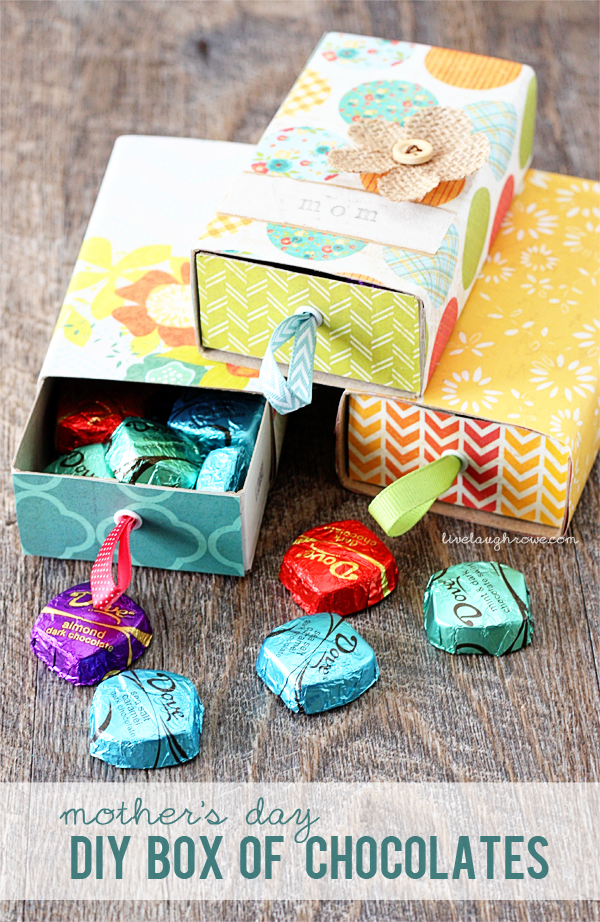 Show your mom just how sweet she is with this decorative handmade box of chocolates! Fill it with all of her favorite goodies.
Learn how to make this from Live Laugh Rowe.
https://livelaughrowe.com/mothers-day-diy-box-of-chocolates/
"52 Things I Love About You" Cards
These cute cards are very easy to make and are thoughful. You can share them with anyone you'd like, not just your mom.
Learn how to make these from Instructables.
http://www.instructables.com/id/52-Things-I-Love-About-You-Card/
String Heart Yarn Cards
Using colorful threads, you can add texture to these beautiful cards!
Learn how to make them from Hello, Wonderful.
http://www.hellowonderful.co/post/MAKE-STRING-HEART-YARN-CARDS
Photo Books                 

This adorable book is perfect to share those fun memories with your mom!
Learn how to make this from Nalle's House.
http://www.nalleshouse.com/2013/05/mummus-bragging.html
Happy Mother's Day and good luck!
By Sarah El Sharkawi