If you enjoy listening to music, then you should know that several songs of all genres were released by several talented artists. From Stormzy, "The Divergent Series" star Ansel Elgort, and Meghan Trainor to Beyonce and beyond, February has been a great month for artists. The following are just a few of the hot new songs released in February 2017.
Stormzy- Big For Your Boots
Stormzy released the first single in his debut album, "Gang Signs and Prayer".
Emeli Sande- Highs and Lows
Emeli Sande rocks the house with her powerful vocals in this new, upbeat song from her latest album, "Long Live the Angels."
Rick Ross- I Think She Like Me (feat. Ty Dolla $ign)
Rick Ross returns to the music industry after a year-long break with the tune "I Think She Like Me" from his forthcoming LP "Rather You Than Me."
Meghan Trainor- I'm a Lady
The American singer brings back girl power in her new, sassy track from "Smurfs: The Lost Village."
Digital Farm Animals- Digital Love (feat. Hailee Steinfeld)
The rising UK producer's new collaboration with pop star and actress Hailee Steinfeld talks about the troubles of dating apps. Many people can relate to this song and its catchy chorus.
Major Lazer- Run Up (feat. PARTYNEXTDOOR & Nicki Minaj)
The trio (made up of members Diplo, Jillionare, and Walshy Fire) collaborated on this new track with Canadian singer PARTYNEXTDOOR and the Queen of Rap herself, Nicki Minaj. Diplo describes this track as the "perfect party record."
Phoebe Ryan- Dark Side
The American singer released this electronic single earlier this month. "It's about being in love with someone who may not necessarily be the best for you, but you're too deep in it to care," she said.
Zara Larsson- So Good (feat. Ty Dolla $ign)
Zara Larsson, 19, drops this tuneful track as a part of her upcoming 15-song album, "So Good", which will be released on March 17. She is known for her songs "Ain't My Fault", "Lush Life", and "Never Forget You", which featured singer MNEK. The Swedish pop singer collaborated with American rapper Ty Dolla $ign and co-wrote the song with American singer Charlie Puth.
Kygo & Selena Gomez- It Ain't Me
The reigning Queen of Instagram returns after what feels like a year-long break with a memorable break-up song in collaboration with Norwegian DJ Kygo.
Ariana Grande- Everyday (feat. Future)
Ariana Grande releases a new, bubbly lyric video for her song "Everyday" from her "Dangerous Woman" album which features hip-hop artist Future.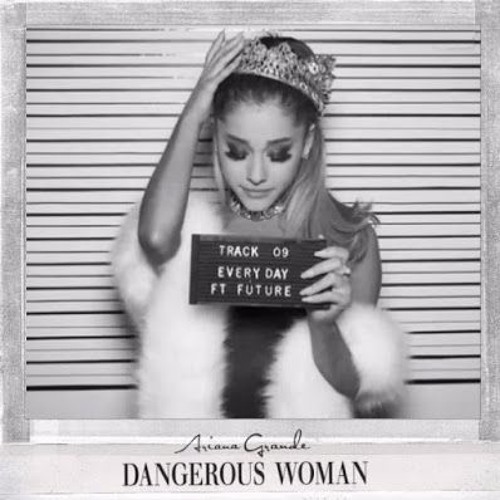 Imagine Dragons- Believer
The American rock band released this powerful song earlier this month that expresses the feeling of pain and how it makes one a believer.
Zedd & Alessia Cara- Stay
Alessia Cara sings the song's powerful lyrics with emotion in her new, infectious collaboration, "Stay" with Russian-German DJ Zedd. This danceable, melodic tune's  lyric video shows beautiful scenery and expresses the song's romantic words.
Ansel Elgort- Thief
The "Fault in Our Stars" and "The Divergent Series" actor released his second solo single earlier this month, following "Home Alone." The song is an '80s-inspired dance-pop tune that tells a long and interesting story.
Nick Jonas & Nicki Minaj- Bom Bidi Bom
The Queen of Rap joins forces with the youngest Jonas brother to create this smooth and mellow "Fifty Shades Darker" track.
Noah Cyrus- Make Me (Cry) [feat. Labrinth] (Marshmello Remix)
Marshmello, an electronic dance music producer and DJ, remixed Miley Cyrus' younger sister's song, "Make Me (Cry)." The track featured English singer Labrinth and is a part of Noah's first album, "NC-17."
Big Sean- Halfway Off the Balcony
The Detroit rapper released the unnerving music video for "Halfway Off the Balcony" the same day that his album "I Decided" was released.
Martin Garrix & Dua Lipa- Scared to Be Lonely
Dutch DJ Martin Garrix joined forces with English, rising star Dua Lipa in this deep and emotional song.
Maroon 5- Cold (feat. Future)
The band released their second single, "Cold", from their sixth studio album on Valentine's Day featuring American rapper Future after the success of their first single "Don't Wanna Know" featuring Kendrick Lamar.
The Chainsmokers & Coldplay- Something Just Like This
American DJ duo The Chainsmokers collaborated with British rock band Coldplay on this new single. It is the perfect marriage between The Chainsmokers' electronic musings and Coldplay's telltale songwriting.
Olivia O'Brien- Empty
The "i hate u, i love u" singer returns to 2017 with her first original song.
Bebe Rexha- All Your Fault pt 1
This is the American singer's second EP which consists of 6 songs including "I Got You","Gateway Drug", "Small Doses", and "Atmosphere." It features guest appearances from American rappers G-Eazy and Ty Dolla $ign.
Cashmere Cat- Love Incredible (feat. Camila Cabello)
The former Fifth Harmony group member collaborated with Norwegian producer Cashmere Cat on this bubbly single.
Ed Sheeran- Shape of You (Stormzy Remix)
The British singer debuted a remix of his chart dominating song "Shape of You" with 23-year-old rapper Stormzy during the 2017 BRIT Awards on February 22.
Robin Schulz & David Guetta & Cheat Codes- Shed a Light
The touching music video for "Shed A Light" was released this month. German DJ Robin Schulz collaborated with French DJ David Guetta and American electronic music DJ trio Cheat Codes on this stirring single.
Lady Gaga- John Wayne
The Party Monster released the crazy music video for her song "John Wayne", which is the fourth track from her fifth solo album, "Joanne."
ZAYN- I Don't Wanna Live Forever (Acoustic)
The former One Direction band member released the acoustic version of his "Fifty Shades Darker" track in which he originally collaborated with singer Taylor Swift.
Katy Perry- Chained to the Rhythm (feat. Skip Marley)
The "Roar" singer returns with a new and catchy politically charged song. It features Skip Marley, the grandson of musician Bob Marley.
Anne Marie- Ciao Adios
The 25 year-old English singer released this track from her debut album. The song title translates to "bye bye" in English.
Sabrina Carpenter- Thumbs
The "Girl Meets World" actress released the music video to her catchy song "Thumbs" from her latest album, "EVOLution." FUN FACT: The first four letters (that are capatilized) in the Sabrina's album title, "EVOLution", spell the word "LOVE" backwords.
Ed Sheeran- Shape of You (Major Lazer Remix) [feat. Nyla & Kranium]
This remix also debuted the same day as the 2017 BRIT Award with trio Major Lazer and features the vocals of Jamaican artist Nyla and musical group Kranium.
Twenty One Pilots- Heavydirtysoul
The American music duo, well known for their songs "Heathens" from "Suicide Squad" and "Stressed Out", released the music video for their song "Heavydirtysoul" from their album "Blurryface" earlier this month. FUN FACT: In the first verse of the song, Tyler rapped 76 words in just 15 seconds!
DJ Khaled- Shining (feat. Beyonce & Jay Z)
The song was released while the 2017 Grammy Awards was wrapping up and is a part of DJ Khaled's tenth studio album, "Grateful."
Rag'n'Bone Man- Skin
The British singer released the third track of his forthcoming studio album, "Human", earlier this month.
Ariana Grande & John Legend- Beauty and the Beast
The "Beauty and the Beast" theme song was recreated into a sweet serenade by Ariana Grande and John Legend for the upcoming recreation of the classic Disney movie "Beauty and the Beast", which will be released on March 17. The song was originally sung by Celine Dion and Peabo Bryson in the original animated film in 1991.
Missy Elliot- I'm Better (feat. Lamb)
Missy Elliot makes her official musical comeback with this brand new song nearly two years after her Super Bowl performance with Katy Perry.
Brooke Candy- Living Out Loud (feat. Sia)
This is the fourth album off Brooke Candy's debut album "Daddy Issues." FUN FACT: The album is executive produced by Sia, who discovered Candy on Instagram.
Which one of these songs was your favorite?
By Sarah El Sharkawi